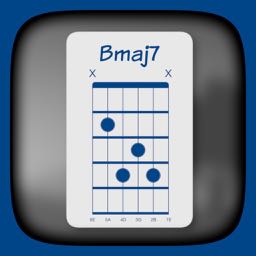 Add custom guitar and ukulele chords to your videos
Works in
Final Cut Pro
on
Apple
and Intel processors
Add custom guitar and ukulele chords to your videos
Works in
Final Cut Pro
on
Apple
and Intel processors
Build and Display Guitar and Ukulele Chords
There are style presets for both guitar and ukulele, in addition to a default template for each instrument. You can simply drop the effect onto your clip or you can go to the Generators browse under BearDogFX Guitar Chords and attach the Add Effect generator to your clip where you want the chord. This will work as an adjustment layer so you can move chords around as needed. Guitar Chords is a unique effect that will save you time and make you look like a guitar or ukulele hero to your clients or audience.
Ukulele Student Chords (USC) was recently added to "Guitar Chords" as a free update.
To use it you basically just pick a chord (for example Am7) and color scheme (for example White Dots on Plum) from a pulldown menu then drag the chord into position. What makes USC truly unique is the 168 prebuilt chord library and 50 preset styles. Also the ability to display both notes and/or finger positions along the whole fret board up to the 25th fret. Capo and "T" for thumbs included. At the bottom of the chord diagram you can also display custom text for alternate tuning or copyright. And of course you can also create, save and PRINT your own custom ukulele chords too.
How do I install

Guitar Chords?
Guitar Chords is available via FxFactory, an app store for visual effects, audio plugins and apps:
Click the button below to download and install Guitar Chords through FxFactory:
More visual effect plugins by
BearDogFx
Version History
The latest version of Guitar Chords is 1.2.0. We recommend that you install Guitar Chords only via
FxFactory
. Should you need to install any version of Guitar Chords manually, please use the links below.
Please note that our products will not work unless FxFactory is available on the system. Double-click the downloaded file to complete the installation.