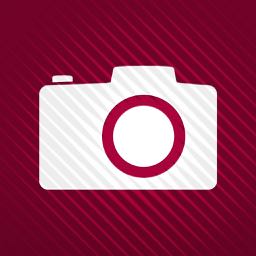 Photo sequence animations
Works in
Final Cut Pro
Motion
Premiere Pro

After Effects
on
Apple
and Intel processors
Photo Montage
Photo sequence animations
Works in
Final Cut Pro
Motion
Premiere Pro

After Effects
on
Apple
and Intel processors
Photo Animations Made Easy
The principle behind Photo Montage is simple: select a transition style and a few of your photos, and let the plugin do the rest.
Rearranging photos or setting the duration of each slide can be done in seconds, thanks to an intuitive configuration UI:
Ease of use does not imply limited functionality. A full array of effect parameters allows expert users to create unique animations.
Key Features
• Keyframing optional: no keyframes are required for animation. Set durations for pause and transition, and leave the hard work to the plugin.
• All popular image formats are supported: including JPEG, PNG and PSD.
• Easy re-ordering and re-timing: customize the order and duration of each photo without wasting precious time renaming files or resizing tracks on the timeline.
• Excellent support for titling: assign titles to each image and customize how and where these titles appear in the final output.
• More than a hundred presets available: no easier way to explore our product and find the desired look for your project.
• Built-in motion blurring: create high-quality animations at any frame rate with built-in motion blur available in all effects.
How do I use these plug-ins in

Final Cut Pro?
Click the Generators icon to browse all video generators available in Final Cut Pro. Select the Photo Montage category and drag the desired effect to your timeline:
Select the Photo Montage generator on the timeline and move the playhead in between the clip's in and out points to display its on-screen controls and parameters:
Click the Select Images button in the Canvas to pick a set of photos to animate. The Presets popup menu lets you explore a large number of built-in presets for the animation:
How do I use these plug-ins in

Premiere Pro?
Create a new Transparent Video asset in your project, and drag it to your timeline:
Look for our generators under the Photo Montage category. Drag the desired effect over the Transparent Video clip and use the parameter inspector to begin setting it up:
How do I use these plug-ins in

Motion?
Click the Generators icon, and select the one of the generators from the Photo Montage category to add it to your timeline: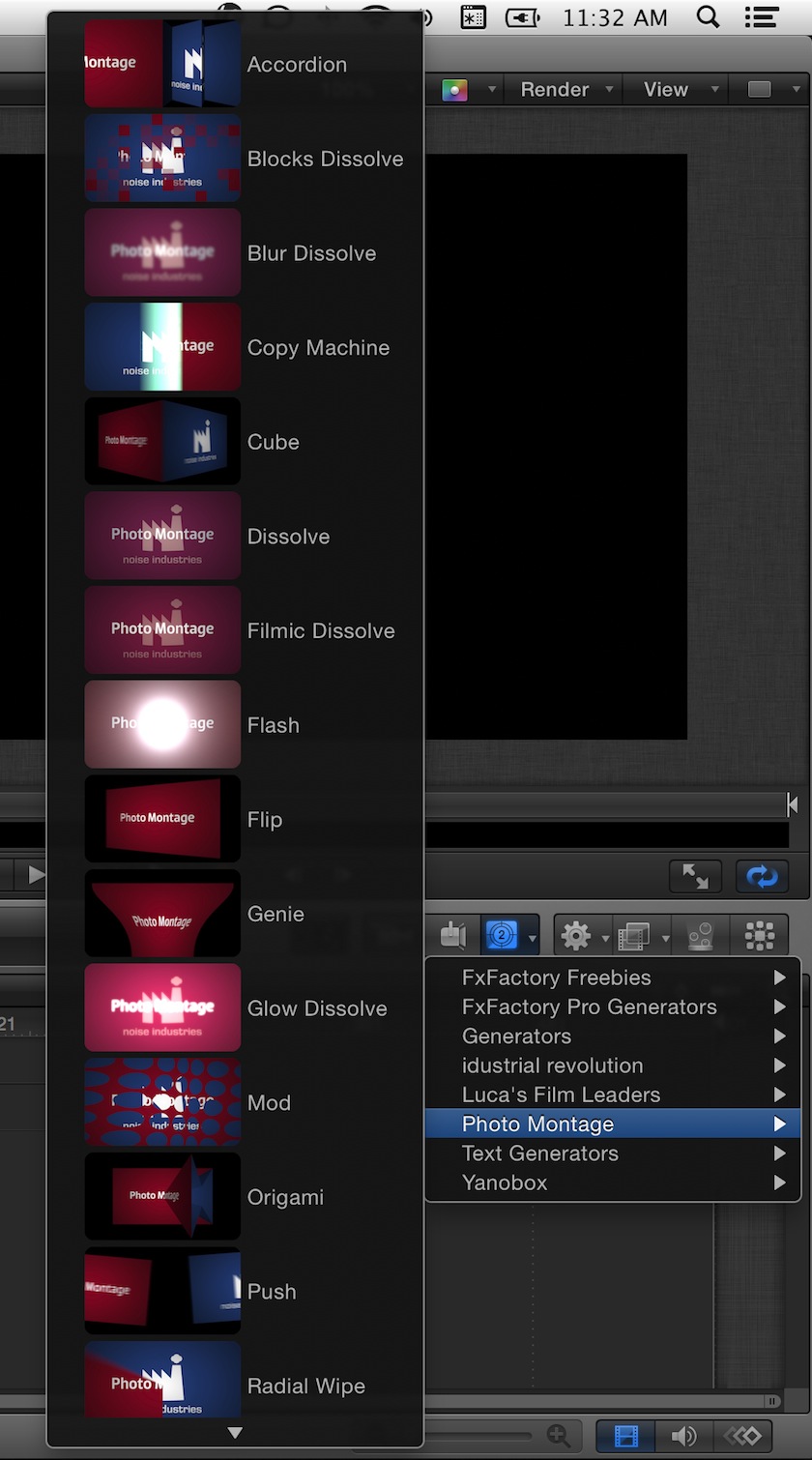 How do I use these plug-ins in

After Effects?
Select an existing layer, or create a new Solid layer on your timeline and select it. Choose one of the generator from the Effect > Photo Montage menu.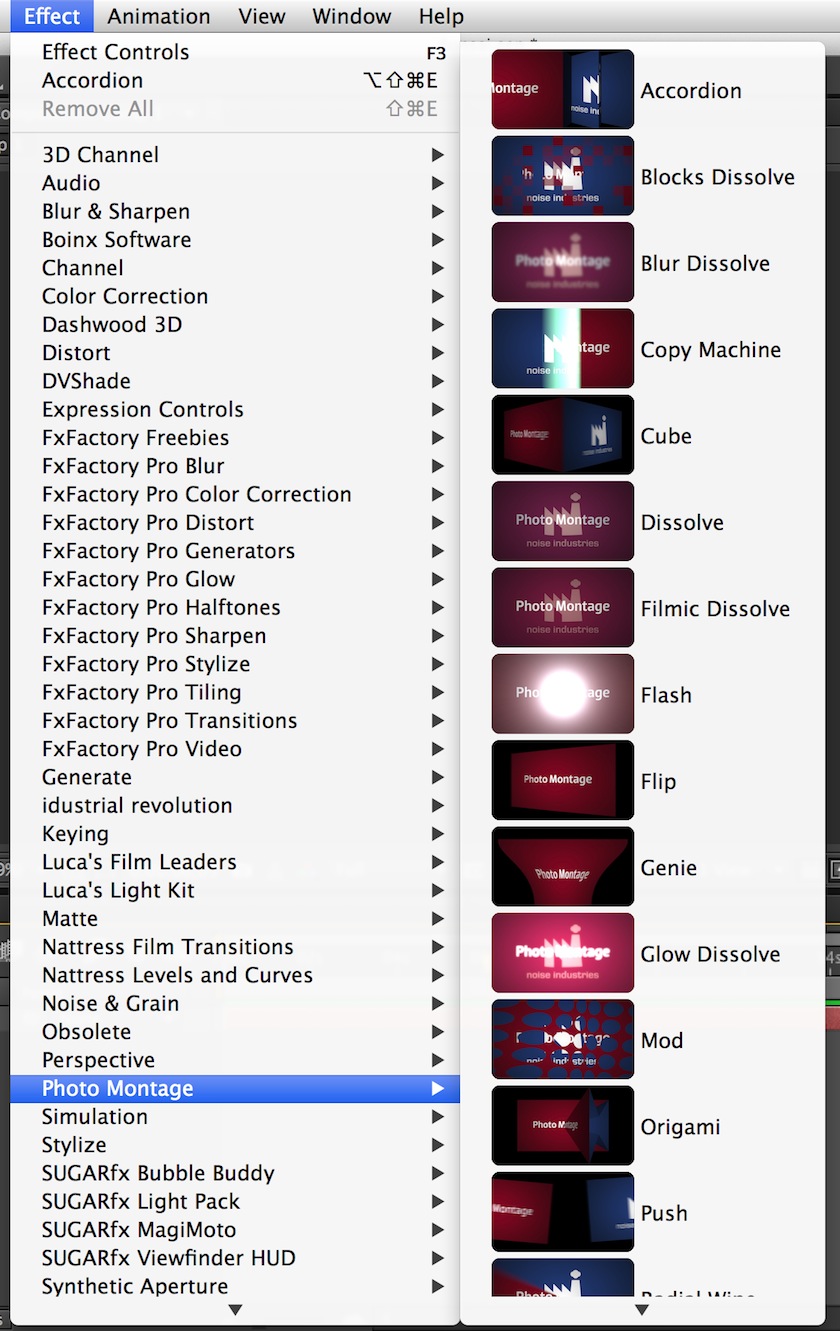 More visual effect plugins by
FxFactory
Version History
The latest version of Photo Montage is 2.0.4. We recommend that you install Photo Montage only via
FxFactory
. Should you need to install any version of Photo Montage manually, please use the links below.
Photo Montage 2.0.4
Required for Macs with Apple M1 processor and Final Cut Pro 10.5.3
Photo Montage 2.0
Requires FxFactory 5.1.1
Photo Montage 1.0.7
This version improves performance and interprets image orientation embedded in the metadata
Please note that our products will not work unless FxFactory is available on the system. Double-click the downloaded file to complete the installation.